Staff Augmentation
To scale-up quickly with the right pool of talents, hire our seasoned developers or even a dedicated dev team enabled by completely transparent processes, so you know exactly who's doing what, when and why, but without administrative issues and hassles or stretching your budget.
We have extensive experience, knowledge, well-established processes, and considerable track record of success allowing our customers confidently rely on us when it comes to profiling, selecting and staffing best-in-class talents to help their projects prosper.
Mobile
Cloud
Benefits of Staff Augmentation Services
Cutting overall budget
With a reliable staff augmentation company, such as Touchlane, you will be able to amplify your team by getting direct access to real professionals and reduce your company spending by saving costs on office space, resource employment and management, equipment maintenance and taxes. You pay only for what brings the most value for your company.
Zero recruitment risk
On average, finding a good IT specialist requires around six weeks, with no guarantees of successful knowledge transfer, adaptation and performance. So let our team at Touchlane, as your trusted staff augmentation provider, do this work for you, saving you from all related headaches, so you only have to screen the best talent out there that will deliver first-class results from the get go.
Scalability
Touchlane offers you immediate access to a varied employee pool. By adding tech specialists to augment your team, you can effortlessly scale-up to speed-up your development work. Once the prioritized tasks are complete, you can scale-down on demand.
Full control over project development
Staff augmentation services put forward by Touchlane give you total control along the way. Not only do you get to cherry-pick the pre-selected talent for your existing team, but also supervise the development process itself, overseeing and ensuring that the goals your business intends to accomplish or attain are always met.
How we work
Whether you are seeking experts that possess a specific set of competencies to fill a particular resource gap within your organization or need to address the unforeseen technical expertise limitations along with the budgetary compression, our staff augmentation service will meet your short & long-term business needs.
Client
An individual developer or a team
From Individual Developer to Unmanaged Dedicated Team
Unmanaged service model provides assets and resources to augment your current team structure with distinct development talent or even a dedicated team that meets applicable skillset and expertise. As a reliable staff augmentation provider, Touchlane procures a seamless integration of our professionals to your environment allowing you to manage them fully. As a result of this business process, we see our clients retain unabridged control over their project vision and product development thus scaling-up quickly and efficiently.
Client
Engineering Manager
Dedicated team
Managed Dedicated
Team
With Touchlane, you get a cohesive set of long-term dedicated team members who are all seasoned specialists focused on bridging the gap of IT skills in your organization. As we stay focused on saving each of our client from the overhead of managerial hassles, we provide them with top-caliber engineering managers, who speak both business and tech and serve as the client's single point of contact. Thus, our clients are free to stay focused on feature planning and strategy implementation, while our engineering managers supervise the dedicated team of Touchlane specialists, taking ownership over the execution and, combined, allowing the uninterrupted app development process.
Our Process
We supply our clients with more than just sheer resources. With us you will get a set of imaginative as well as innovative experts across diverse business topics and industries. Our staff augmentation service includes the full scope of engagement from gathering the precise set of requirements from your existing developers to the final kick-off of the project.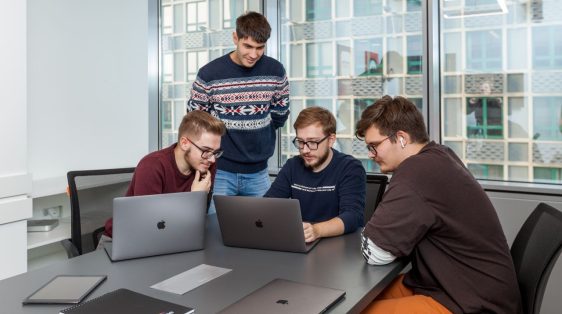 Gathering requirements
First step is for us to comprehend your needs and requirements, such as team size, tech stack, longevity of the project, and so on. We will gather as many technical characteristics and details as possible, so that we can get a better understanding of the skills and expertise you require and match you with the exemplary talent as soon as possible.
Profiling of needed IT specialists
On the basis of your requirements, we generate the profiles of the best-matching IT talent available on the market.
Candidate search and interview
Once the required profiles are confirmed, we either staff the suitable resources currently available, or start our extensive scouting process for the best-matching candidates out there. Having developed an efficient recruiting mechanism that includes comprehensive hard- and soft-skill assessment, a trusted network and a unique job offer, we are capable of staffing first-class specialists within the shortest possible timeframe.
Signing an official contract
Once the accurate candidate is selected, we sign an official contract, wherein we agree on all business details of our cooperation, including the pricing model and making sure that the Client receives all IP rights to the code.
Onboarding and Integration
Lastly, we proceed with a meticulous process of onboarding and integration of the selected IT specialists or a Dedicated Team with the Customer's in-house team. We equip each new team member with specific tailored advice and expectations so that they can adapt and start delivering results in no time.
Onboarding and Integration
By constantly working on improving our services, we welcome feedback from all sides and proactively seek for ways to improve our cooperation by doing regular check-ins with all our customers, making sure that they always get more than what they expected, not less.
Why Choose Our 
Staff Augmentation Company
Unique Candidates Selection Approach
Being a trusted staff augmentation provider, Touchlane treats its staff as the most valuable resource. Before being welcomed onboard, each candidate passes two- or three-step interview checking technical and soft skills. This approach allows us to be confident of our staff, knowing that we supply only top talent capable of delivering first-class results.
Genuine
Commitment
Since being customer-focused is our top-priority, we employ a unique partnership model, where Touchlane specialists become our partners and jointly own the majority of the business. Partners, who have access to company financials tend to contribute accordingly and create a 100% trust-based environment to deliver the best customer experience.
Quick Start
To stay competitive, we practice taking top talents on bench, which helps us jump into new projects swiftly and directly contribute to the customer success without any delay. Furthermore, we have a well-oiled and high performing recruiting system along with a unique job offer, which helps us stand out and attract the best talent with a sense of urgency.
Trust and

Transparency
We believe that teamwork is based on trust and complete transparency. It is an inalienable part of fruitful long-term partnerships with our clients. As your trusted staff augmentation company, we regularly and candidly report on where we stand, our delivery status, continuously conveying results and applying an understandable and transparent billing system.
Fire away
your ideas!
Let's discuss our possible synergy